Highly Suspect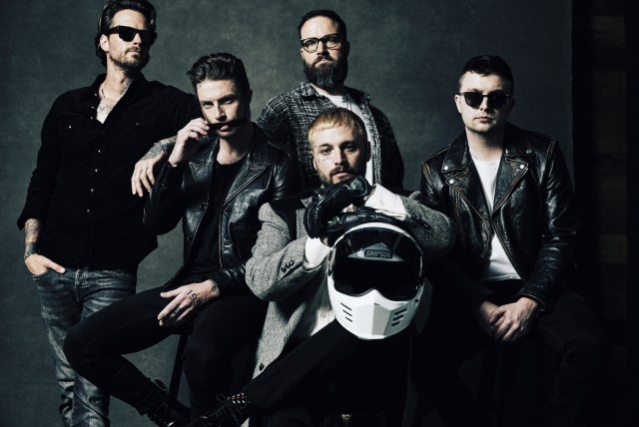 Two Time Grammy-nominated, festival-storming trio Highly Suspect, are returning with second album The Boy Who Died Wolf on November 18th. The moving, jubilant LP from the Brooklyn alt-renegades follows two Top 10 Mainstream Rock hits ("Lydia," "Bloodfeather") and two Grammy nominations (Best Rock Song, Best Rock Album) just one year from the release of their 300 Entertainment debut, 2015's Mister Asylum. For the follow-up, the band — Johnny Stevens (guitar/vocals), and fraternal twin brother rhythm section Rich (bass/vocals) and Ryan Meyer (drums/vocals) — are reappearing stronger, livelier and more mature.

"The title The Boy Who Died Wolf, its like, we were so young and now we're adults," says Stevens. "I went through a lot of issues that I had to sort out and sometimes I cant believe that I'm alive. And now here I am traveling the world with my best friends, making music, and living the exact dream that we had set out to accomplish a long time ago … We're learning a different lifestyle. And it's good, it's positive. But it's also hard to let go of everything that happened in the past."

That new lifestyle comes in the wake of success that's snowballed since 2014, featuring Grammy nods; radio smashes; stops at major festivals (Lollapalooza, Bonnaroo, Reading and Leeds and so on); tours alongside Scott Weiland, Chevelle and Catfish & the Bottlemen to name a few; tours around the world including Australia, New Zealand, Europe and the UK as well as multiple headlining tours in the United States one of which is currently underway. The feeling of celebration infuses The Boy Who Died Wolf, while still heading into haunted regions of Steven's past, yowling somewhere between the metronomic robot metal of Queens of the Stone Age, the bluesy wallop of Jack White and the feedback-shrieking noise-pop of In Utero-era Nirvana.

To record the LP, the band traveled far from their New York comfort zone to Bogotá, Colombia, recording with Mister Asylum producer Joel Hamilton (The Black Keys and Wu-tang, Tom Waits, Elvis Costello,).

"Normally we would record in New York or L.A., and when we're in those places we just have too many distractions, too many friends," says Stevens. "When you're trying to make art.. pure art, it's good to be secluded. So we were literally in a fortress, 20-foot walls all around this compound in the middle of Bogota."

"The energy around you, the culture that you're taking in, will affect the songs," he continues. "We were really enjoying ourselves. So I think there's a little more step to this album. There's happier tones. There's some dark stuff too but there are simply more uplifting moments on this album. I think we finally realized we are supposed to be here making music. That people like what we do. We had more trust in ourselves and each other and just let the music come out."

The upbeat vibe begins to show its face lyrically in the lead single "My Name Is Human" ("I'm feeling the way that I'm feeling myself"), and then appears full force on the blazing desert-rock dynamite of "Postres" ("I'm havin' fun for the rest of my days"), but takes a back seat in their dreamy cover of Real Life's 1983 new wave swooner "Send Me an Angel" and on the anthemic "Little One" which reminds us all of the hopeless, lovelorn pangs that most have undoubtedly felt in the pit of their guts somewhere along the lines. But even the more serious songs are steeped in an unrelenting optimism. A great friend of theirs took his own life while the band were in Colombia, to which they responded with "For Billy," a beaming post-grunge burst.
"The song is not a downer, it's sad, but it's a charged up anthem," explains Stevens. "It's what he would have wanted. It was a really sad moment but he was such a happy person. So that song is something he can blare through his Harley speakers wherever he is now."

Johnny describes Billy as an "original crewmember" of MCID, the collective shouted out on Highly Suspect's jackets, hats, lyrics and tattoos. "That's our ethos," says Johnny of the acronym that stands for "My Crew Is Dope." "We're trying to invite any and all positive people to what was once exclusively for us. We've realized its bigger than us; as long as you're not a racist, not a homophobe and you have good intentions then we welcome you to join the family and spread the love." In turn, Wolf's "Viper Strike" namechecks MCID in a venomous, knives-out attack on bigots: "We're all equal except for you/'Cause you're an asshole with an ugly point of view"

"It's a family of positivity that we're really trying to build," says Johnny. "Our whole purpose is not just about being some famous fuckin' band, but kind of making a movement. Making a difference for our generation who are so constantly misled. We barely made it out of the wrong mentality. We want to help. We're no fuckin hippies, those days are gone. The irony is that now you have to "fight" for positivity. Which is crazy but so be it. We're strapped and ready to defend free thinking. When you come to our shows, it's kind of like this family affair."
Social Links